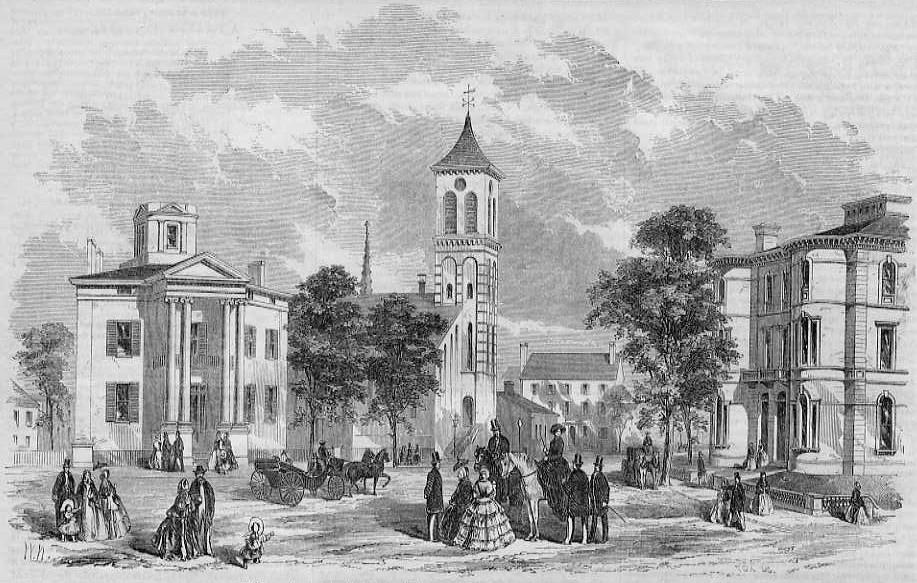 Francis Waldo (1728-1784) was the son of Brigadier-General Samuel and Lucy Waldo, and brother of Colonel Samuel, Hannah, and Ralph. 
In a deed dated June 5, 1770, Francis Waldo sold the Stroudwater, Maine estate of his recently deceased brother Samuel to Daniel Dole of Newburyport for £480.  The property consisted of 185 acres with a house and barn.  The house has historically been referred to as the Francis Waldo – Daniel Dole House, although it would be more accurate to call it the Colonel Samuel Waldo House as Samuel was the original owner.  More research is needed to determine when the house was built.
The following biography of Colonel Samuel Waldo was transcribed from Genealogy of the Waldo family : a record of the descendants of Cornelius Waldo, of Ipswich, Mass., from 1647 to 1900 and will be updated as I discover more information.
Francis, Son of Samuel (Jonathan, Cornelius) and Lucy (Wainwright) Waldo; born June 13, 1728, at Boston, Mass., according to the Boston records, but probably this is an error for May 13, since by the records of the First Church he was baptized May 19, 1728; died June 9, 1784, at Tunbridge, Eng. He was educated at the Boston Latin School, class of 1736, and at Harvard College, class of 1747. In 1749, he and his brother Ralph were taken to Europe by their father; be to be educated in Paris and his brother to remain with bis father in London.1 How long he remained in Europe is not known.  Apr. 28, 1758, he was appointed collector at Falmouth, now Portland, Me., and from that time he resided at Falmouth until his final departure for England, which was soon after the destruction of the town by Mowatt. He was representative for Falmouth in 1762 and 1763, and was commissioned justice of the peace Jan. 4, 1764. He was, with his brother Samuel and his brothers-in-law, Isaac Winslow and Thomas Flucker, administrator on his father's estate; and through the many deeds given by them in the settlement of this estate in Worcester and Suffolk Counties, it is learned that in 1761 he visited England, apparently for the purpose of selling the Maine lands. He again visited England about ten years later, for the "Journal of Rev. Thomas Smith" records under date of Nov. 13, 1771, "Collector Waldo came home from London." In 1763, "in pursuance of strict orders from the Surveyor-General, he issued a proclamation against smuggling rum, sugar and molasses, which had previously been winked at, and the officers were directed to execute the law with rigor."2 He held the office of collector until 1770, when he was succeeded by George Lyde.  Like all his family he was a tory, and, as has been said, went to England about 1775, and never returned. He was a member of the "Brompton Row Tory Club " with Thomas Flucker.  In 1778, he was proscribed and banished, and his property was sold under the Confiscation Act in 1782.  He met with a disappointment in a love affair in 1768 and was never married.
The Massachusetts Spy, Sept. 16, 1784, thus announced his death:—
"Died In Tunbridge, England, on the 9th. of June last, Francis Waldo, Esq. late collector of His Majesty's Customs at Falmouth Casco Bay, and several times a member of the General Assembly of Massachusetts Bay."
His will, dated Jan. 4, 1775, probated in Suffolk County, Mass., Oct. 28, 1785, calls him "of Falmouth late a resident in Boston." In it he leaves "to the Poor Parishioners of St. Paul's Church in Falmouth, County of Cumberland, £25 which is now due from St. Paul's church on Bond, Interest of said sum to be paid on every 25th. of December to and amongst the said Parishioners at the discretion of the Minister and Church Wardens," and the further sum of £75 for like purposes; two pews in said church to be sold and the proceeds invested in Silver Plate for a Communion Service for said Church; £1000 on Bond in the hand of Jo. and Geo. Erving in Trust for the Children of late Brother Samuel Waldo with any further sum placed in their hands in trust for said children to be paid and divided equally amongst them so soon after his decease as they become of age: to the Children of said Brother Samuel Waldo all lands and interest in the Township of Falmouth : whatever sum of money shall appear on Bond of Brother Isaac Winslow Esq, to have been placed in his hands in Trust for the Benefit of the Children of late sister Lucy Winslow to be paid them as soon after his decease as they arrive at age: "to my nephews Samuel Winslow and Isaac Winslow sons of my late sister Lucy Winslow all my fifth part in and to the Lincolnshire or Muscungus Patent on condition that there be paid unto my sister Hannah Flucker an annuity of £60:" that £2667 paid into the Hands of my Brother Thomas Flucker as Trustee to "my sister Hannah Flucker and her children" be paid and divided amongst sold children immediately after "her decease and mine."  Nephews Samuel Winslow and Isaac Winslow to be executors and residuary legatees and to them "I join my Brothers Isaac Winslow and Thomas Flucker in case said Nephews are not of age at my decease."3
"Maine Hist. Society's Collections," vol. X., p. 75.
"Loyalists of the American Revolution," vol. ii., p. 399.
Suffolk Probate Records, vol. Lxxxiv., p. 646.