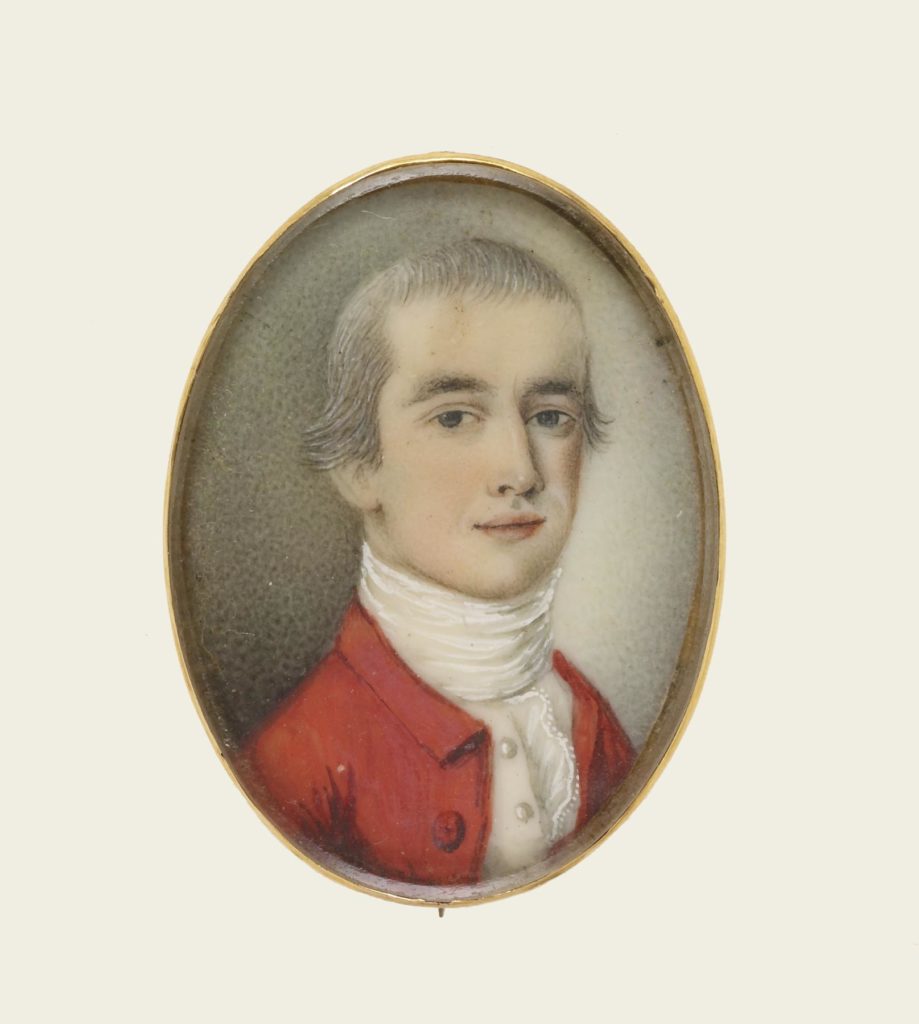 Colonel Samuel Waldo (1721-1770) was the son of Brigadier-General Samuel and Lucy Waldo, and brother of Francis, Hannah, and Ralph.  In a deed dated June 5,1770, Francis Waldo sold the house of his recently deceased brother Samuel to Daniel Dole for £480.  The house is commonly referred to as the Francis Waldo – Daniel Dole House in Stroudwater, Maine although I believe it would be more accurate to call it the Samuel Waldo – Daniel Dole House.  More research is needed on the original owner of the house.
The following biography of Colonel Samuel Waldo was transcribed from Genealogy of the Waldo family : a record of the descendants of Cornelius Waldo, of Ipswich, Mass., from 1647 to 1900 and will be updated as I discover more information.
Samuel, son of Samuel (Jonathan, Cornelius) and Lucy (Wainwright) Waldo; born May 7, 1723, at Boston, Mass., bapt. May 12, 1723, at First Church;1 died Apr. 16, 1770, at Falmouth, now Portland, Me.2 He was educated at the Boston Latin School, class of 1734, and at Harvard College, class of 1743. Among his classmates at college were Andrew Pepperell, who was engaged to marry his sister Hannah, and his cousin Samuel Fairweather [Igd]. He removed to Falmouth immediately after leaving college, and passed his whole life there, living on the north side of Middle Street, nearly opposite the Second Parish Church, next below the house of Judge Freeman, now called the Freeman House.3 He accompanied his father on the expedition to Louisbourg, receiving a commission as commissary, Feb. 2, 1744; as brevet-captain Mch. 23, 1744; and was commissioned captain by Gov. Shirley at Louisbourg, Oct. 12, 1745. He also served as aide-de-camp.4 Mr. Goold says that he succeeded his father as colonel of the regiment,5 but Sabine is in error in saying that Gov. Shirley gave him a commission as colonel in 1744.6 He became a prominent and active citizen and was for several years a representative to the general court. Several authorities say that he was first elected in 1744, but this is probably an error, since the court records say that Samuel Waldo was representative, 1749, and for Falmouth, 1759, '60, '61, '64 and '65. He was interested with his father in the Muscungus or Waldo Patent; and in 1753, for the purpose of securing settlers on these lands, he went to Europe and distributed a rather bombastic circular throughout Germany, in which he calls himself: "The Royal British Captain Waldo, hereditary lord of Broad Bay, Massachusetts." For a translation of this circular see "Maine Hist. Society's Collections," vol. vi., p. 321. Oct. 31, 1760, and again Oct. 16, 1761, he was appointed judge of probate for Cumberland County, and continued to hold that office until his death, which is thus announced in the Boston Post, Apr. 23, 1770:—
"We hear from Falmouth, Casco Bay, that last Monday died there, after a short Illness, the Hon. Samuel Waldo Esq; Judge of Probate for the County of Cumberland and Colonel of one of the Regiments of Militia there."
Parson Smith records in his journal, under date of April 20, 1770, "Col. Waldo was buried with great parade under the church with a sermon and under arms."7 The church meant is St. Paul's, which was burnt five years later by Mowatt. Colonel Waldo's body was then removed to Boston and was probably deposited with that of his father in the family tomb in King's Chapel Burying Ground.
Samuel Waldo was commissioned justice of the peace for York County, Jan. 11, 1758; of the peace and quorum for Cumberland County, Oct. 31, 1760, and Oct. 16, 1761. In 1758, he was chosen councillor, but this may have been, and probably was, his father.
July 11, 1759, Samuel Waldo and Francis Waldo, both of Falmouth, County of York, Isaac Winslow of Roxbury and Thomas Flucker of Boston were appointed administrators on the estate of their "late father, Samuel Waldo late of Boston, Deceased, lately died intestate."8
The settlement of this vast estate, consisting, as it did, of real estate in the counties of York, Middlesex, Suffolk and Worcester in the Province of Massachusetts Bay, and in various towns in the Colony of Connecticut, was a matter requiring much labor and time; and for the next ten years there are many deeds on record of conveyances of this property. But the disturbed state of the country probably prevented quick or advantageous sales; much, perhaps most, of the general's property was confiscated during the Revolution, and his children, who were all royalists, probably realized but little of their large inheritance.
Mr. Waldo married (1), Aug., 1760,9 Grizell, daughter of Andrew (Daniel, Peter, Thomas ) and Mary (Sanford) Oliver of Boston; born May 9, 1737, at Boston;10 died Feb., 1761, at Falmouth.11 The Falmouth Records, as published in "N.E. Hist. & Gen. Register," vol. xvii., p. 154, in the intentions of marriage, reversed both names as follows:—" Waldo Samuel, Esq. with Mrs. Olin Grizell of Boston, July 5, 1760," which probably caused Mr. Willis, in " History of Portland," and in his note in "Journal of Rev. Thomas Smith," pp. 187, 218, to call her Olive Grizzell. The dates of her marriage (Aug. 11, 1761,) and of her death (Dec. 19, 1761,) are erroneously given in the latter work.
Mr. Waldo married (2), Feb. 23, 1762, at Brattle Street Church, Boston12 (intentions published, Dec. 4, 1761, at Falmouth, Jan. 13, 1762, at Boston), Sarah, daughter of John13 and Abigail (Philips) Erring of Boston; born June 8, 1737, at Boston;14 died Nov. 25, 1817, at Boston, "of old age," and was buried in tomb 21, King's Chapel Burying Ground.15
Mrs. Waldo returned to Boston after her husband's death, and was living there Aug. 28, 1778, when " Sarah Waldo of Boston, widow," was admitted "guardian to Samuel and Sarah Waldo minors under fourteen years of age, children of Samuel Waldo late of Falmouth, County of Cumberland Esq. deceased." July 21, 1781, Sarah Waldo of Boston, widow, was "nominated and allowed to be Guardian unto John Erving Waldo and Lucy Waldo minors above fourteen years of age and children of Samuel Waldo late of Falmouth, County of Cumberland Esq. deceased."16 Mch. 23, 1798, she acknowledged a deed conveying to James Bowdoin an estate on the " west side of Tremont Street near Court Street where she now dwells." This, by a mortgage deed, dated Aug. 22, 1791, seems to have been the mansion house of her father. She joined her brothers and sisters in several deeds conveying real estate inherited from their father and mother; in one calling themselves "children and heirs at law of Abigail Erving wife of the late Honble John Erving Esq."17 Boston Directories say that "Widow Waldo" was residing, in 1789, on Court Street; and that in 1796, '98, 1800, '06, '07, '09 and '10, Mrs. Sarah Waldo was residing on Tremont Street. In the census for 1790, Mrs. Waldo had one male and three females in her family, probably servants.
The will of Mrs. Sarah Waldo of Boston, gentlewoman, widow, dated Mch. 1, 1815, probated Oct. 20, 1817, names— "the four children of my late son Samuel Waldo deceased, viz: Samuel Waldo, Francis-Wainwright Waldo, William-Tyng Waldo and Sarah-Erving Waldo"; "granddaughter Sarah-Waldo Story, wife of Honorable Judge Story"; "my five grandchildren, the children of my deceased daughter Sally Wetmore, late the wife of Honorable William Wetmore, viz: Sarah-Waldo Story, Augusta Wetmore, Hester-Ann Wetmore, Thomas Wetmore and Samuel Waldo Wetmore"; "my daughter Lucy Wolcot, wife of Alexander Wolcot of the City of Middletown, Conn."; "my daughter-in-law Sarah-Tyng Chase widow of the late Salmon Chase, Esq." The executors were Thomas-L. Winthrop and George-W. Erving, "now Minister of United States to Spain." The estate was inventoried at $92,961.92.18
Children of Samuel and Sarah (Erving) Waldo. Born, a-e at Portland, Me.; f at Boston, Mass.:—19
lbaa. Sarah, born Nov. 30, 1763.
lbab. Samuel, born Mch. 4, 1764.
Ibac. Jobn-Erving, born Aug. 28, 1765. Family Records say 1766. He was killed In a gale off Bermudas, by the boom of a vessel of which he was mate, Apr. 17, 1787.20
lbad. Lucy, born Aug. 10, 1766. Family Records say Aug. 30, 1767.
Ibae. Francis, born Dec. 26, 1768, bapt. Dec. 28, 1768, at St. Paul's Church, Falmouth; died young, probably.
Ibaf. Ralph, born Sept., 1770, posthumous; bapt. Sept. 23, 1770, at Trinity Church, Boston; died young, probably.
Boston Records: Records of First Church.
"Portland in the Past," p. 272, but Mr. Goold makes the singular error of saying, "only one year after the death of his father."
"History of Portland," p. 853: "Journal of Rev. Thomas Smith," p. 218, note.
"N. E. Hist. & Gen. Register," vol. xxiv., pp. 370-377.
"Portland In the Part," p. 272.
"Loyallat* of the American Revolution," vol. ii., p. 391.
"Portland in the Past," p. 272.
Suffolk Probate Records, vol. liv., p. 446.
"Loyalists of the American Revolution," vol. Ii., p. 391.
Boston Records.
"N. E. Hist. & Gen. Register," vol. xix., p. 69: "Loyalists of the American Revolution," vol. Ii., p. 391.
Records of Brattle Street Church: Falmouth Records say Mch. 9: "Journal of Rev. Thomas Smith," p. 194, says Mch 29.
For brief note of John Erving and abstract of his will, see ""N. E. Hist. & Gen. Register," vol. L., pp. 537-8.
Boston Records.
Ibid.: "History of Portland" says that she died Oct., 1817 at Middletown, Conn.
Suffolk Probate Records, vols. Lxxvii., p. 669; lxxx., p.375.
Suffolk County Deeds, vols. Cixx., p. 101; cixxiv., p. 156; cixxxix., p. 186.
Suffolk Probate Records, vols. Cxv., p. 636; cxvi., p. 35.
"Journals of the Rev. Thomas Smith and Rev. Sam'l Deane," note, p.218; "History of Belfast, Me.," p.44.
Boston Records: Family Records.
Source: Genealogy of the Waldo Family: A Record of the Descendants of Cornelius Waldo, of Ipswich, Mass., from 1647 to 1900, Volume 1.