Moses Pearson, 1697 – 1778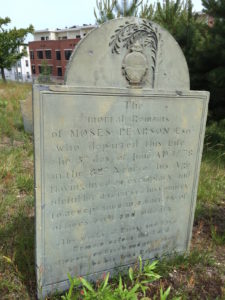 The mortal Remains of MOSES PEARSON ESQr. who departed this Life the 5th day of June A.D. 1778. in the 82d Year of his Age.  Having lived an exemplary and useful life and served his country to acceptance in a variety of offices civil and military. His works of Piety and Love Remain before the Lord. Honour on Earth and joys above Shall be his sure Reward.
Moses Pearson, the son of Jeremiah and Priscillah, born the 26th March 1697.  He is the father of Sarah Dole (Pearson) – spouse of Daniel Dole, progenitor of the Daniel Dole House.